The Cock Pitt is located at numbers 47-49 High Street, Eton.  It is Grade II* Listed.  It is a very important building within the context of rich history of the town and occupies an important position on the main High Street.  The Cock Pitt is the oldest building in Eton and dates back to the 15th century. We began looking at options to secure and safeguard this very important heritage asset back in 2014.  Throughout this period we have worked very closely with both the Planning Officer and the Conservation Officer to carefully develop the right scheme for this key site in Eton.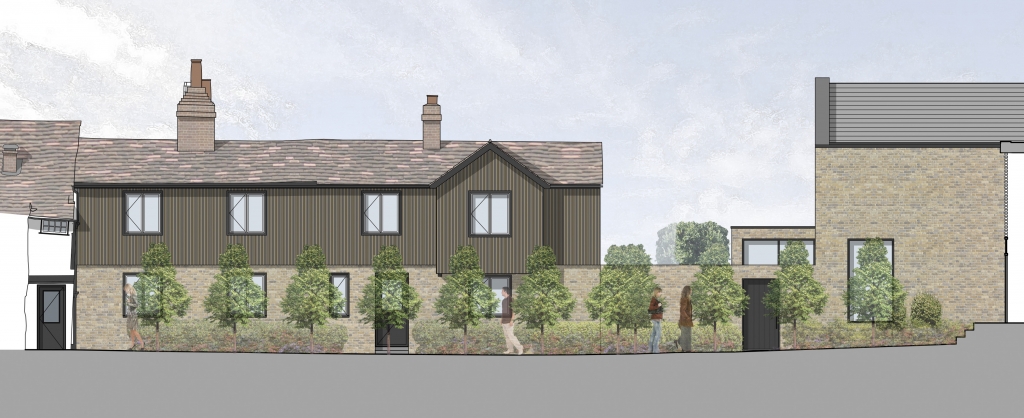 Our client has always respected the importance of the building.  We have been fully supported in developing these proposals by the reputable heritage consultants The Built Heritage Consultancy.  The building has been carefully documented and analysed to ensure the full significance is understood. This is a very old building with certain parts dating back to the 15th Century.  There have been numerous unsympathetic changes over the centuries.  When we considered how best to enable its survival for the next generation we first needed to understand the complex nature of its past.
The conversion back into residential use is being achieved with very limited impact on the historic fabric.  The parts of the current building which cause harm to the historic fabric are being removed.  The new plan layout is sensitively designed utilising and preserving the most important parts of the building's historic plan form.  We have used the in depth significance analysis to inform our design.
The building is on the English Heritage Risk Register and the costs of refurbishing and safeguarding its future are very significant.  Our proposals have been developed to ensure the long term viability and survival of this important Heritage Asset.
The 2 new mews houses in the rear courtyard are designed to enhance the enclosure of the courtyard.  They are designed with similar materials but they are clearly the new element allowing the overall composition to be understood.
The key feature of the proposals is the reinstatement of the public access to the currently closed and overgrown courtyard.  There are 3 historic access points from the High Street frontage, the central one is being re-opened recreating the historic access into the courtyard.